Home
Testimonials

Products

The complete Music Reading & Theory Skills© curriculum consists of eleven "items",
organized into 4 levels...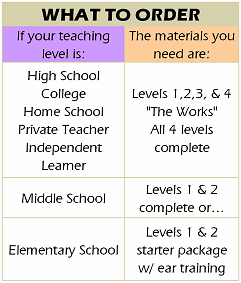 The lessons are sold in cost-saving bundles...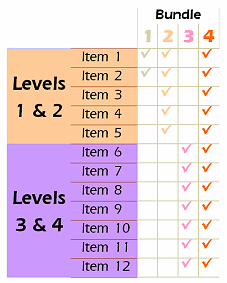 ---
Level 1 & 2 - Bundle 1 Click here for details
Starter Package
---
Level 1 & 2 - Bundle 2 Click here for details
Items1 thru 5
---
Levels 3 & 4 - Bundle 3 Click here for details
Items 6 thru 12
---
Levels 1, 2, 3, & 4 - Bundle 4 Click here for details
Items1 thru 12
---
Certificates of Completion Click here for details
8"x10"
---
Jazz Posters Click here for details
by Carolyn Francis
16"x20" Limited Edition

ORGANIZED BY LEVELS:
Our lessons are organized by levels. Levels 1 & 2 are appropriate for grades 4 through adult. Levels 3 & 4 will be most enjoyed by grades 7 through adult. Lessons are sold in bundles, allowing us to offer the lowest possible prices, but are also available as individual pieces.
Lessons are available in their original binder format or new CD format for permanent storage and quick, easy access.
---
FOUR WAYS TO ORDER:
On Line
Click on any curriculum item to the left
Use your credit card.
Mail
Print out and complete our order form (DOWNLOAD HERE) and send it in with your check, money order or your school's Purchase Order.
Fax
Print out and complete our order form (DOWNLOAD HERE) and fax it in with your school's Purchase Order. Our fax number is...
928-634-1154
Phone
800-232-6332 (toll-free)
---
OUR MONEY-BACK GUARANTEE:
All orders automatically include our usual 30-day money-back guarantee. Curriculum materials are guaranteed to be just what you need or we will refund the price of the materials you ordered, providing all Return Conditions are met. You have 30 days from the time you receive your materials to decide.

DELIVERY via UPS,
SHIPPING & HANDLING:
Standard shipping & handling fee of 4.5% of the sub-total will be added to each order for delivery via UPS Ground service (Please allow 3 to 4 weeks for delivery, or call for faster shipping option).


ORDERS OUTSIDE US:
At this time, curriculum materials are available only within the US & Canada(Canada shipment, please call us for details). All purchases are payable in US funds only.
---
COPYRIGHT NOTICE:
Music Reading & Theory Skills curriculum series (materials, also defined as (the) curriculum), by Carolyn Francis, and all materials (instructional & teacher support material, promotion & advertising material) in all formats (text, charts, CD-ROM, audio CD or cassette tape, video, printed articles, workshop, in-service, professional development materials, notes, wall charts, html, black line masters, and any other format, containing information about the curriculum and/or teacher and student materials, and all graphics associated with the curriculum series and its advertising or informational literature, are protected by United States Copyright law. All rights are reserved. No part of these or any other materials associated with the curriculum or related materials, of any type now existing or future products or items, may be reproduced in any form or by any electronic or of any format mechanical means including information storage and retrieval systems, internet usage and downloading, etc. Purchase of "Single-User Copy License" allows only very specific copying for use by one teacher only, assigned to one school music program assignment, or private teacher, or individual student, for that teacher's students only, AND ONLY specifies particular portions may be copied under the accompanying lifetime License Agreement. Only selective copying privileges may be granted in special one-time circumstances as specifically requested and by written permission of the author, for a reviewer to use a passage one time in an article or review.